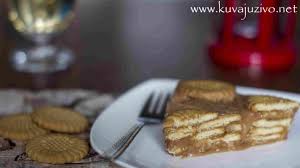 Cake with coffee
Ingredients
 6 persons
Preparation
Place 250 ml water in heat and then add 3 tablespoons of coffee.
Place 165 gr of sugar in the pan, add 150 ml of water an turn on the heat at max. Cook it until syrup is made (about 7-8 minutes)
In a bowel put 3 yolks and add the hot syrup with continuous mixing until it cools down.
Melt 200 gr of butter with 100 gr of chocolate for cooking.
Melt butter and chocolate should be added to the dried filet gradually and mixed until it is united.
Add 1 teaspoon of vanilla flavor and mix.
Filing:
Separate 8 biscuits for decoration later.
In a bowl with diameter of about 18cm (or a mold of that size) cut 2 rows of biscuits that you have previously spoiled on both sides of the coffee.
Pour the half of the filling over two lines of biscuits.
Place in the fridge for 10 minutes.
After 10 minutes, remove from the fridge and add the remaining half of the filling and overlap the eight round biscuits, which should also be spilled with coffee on both sides.
Place the cake in the fridge for 2 hours and then serve.