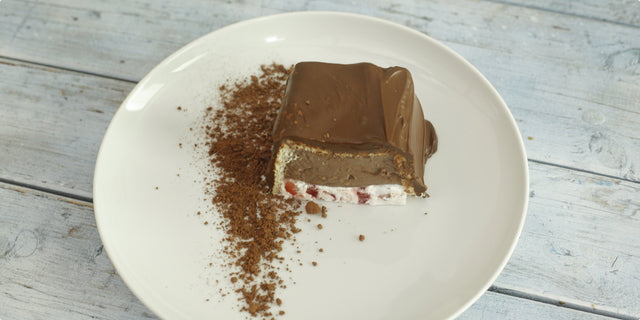 Chocolate pudding cubes
Biscuits and pudding always are a great combination. Here they are paired together in the story of a beautiful and precious cake. Add your favorite fruits (strawberry, banana ...) and bring it to a higher level. Pudding has never been so good.
Ingredients
Preparation
1.

Place the Petit beurre cookies in a bowel or square shape so that the bowl is completely covered with biscuits.

2.

Boil the milk and add the chocolate pudding. Pour the boiled pudding into a bowl with biscuits.

3.

Add the whipped cream with the other cream, cut strawberries into smaller pieces,add whipped cream and fill the remainder of the mold with whipped cream and strawberries. Put everything together on the cooling.

4.

Melt the chocolate for cooking in a steam in a bowl. Pour the melted chocolate over the cake so all parts of the cake are covered with chocolate. 
Serving
Turn the cooled pudding cake so that it is in the opposite position from the start.
Serve a peace of cake on a plate while decorating with strawberries and whipped cream.