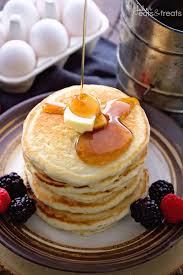 How to make Pancakes
This recipe for pancakes makes the most perfect soft and fluffy pancakes. Using ingredients you should already have in your kitchen you can easily make these pancakes from scratch for brunch or breakfast this weekend.
FLUFFY PANCAKE RECIPE
Ingredients
2 Tablespoons Sugar (optional)
1 Egg
1¼ Cups | 310ml Milk
¼ Cup | 60g Melted Butter + more for cooking
½ Teaspoon Vanilla Essence
Instructions
In a large bowl mix together the flour, baking powder and salt with a wooden spoon. Set to the side. In a smaller bowl crack in the egg and pour in the milk. Add the melted butter and vanilla essence to the egg and milk and use a fork to mix together until everything is well combined. Make a well in the dry ingredients and pour in the wet. Fold the batter together with a wooden spoon until there are no longer any large lumps. To cook the pancakes heat a heavy based pan like cast iron over medium low heat. When the pan is hot add a small amount of butter and ⅓ cup of the pancakes batter. Cook the pancake for 2-3 minutes each side. Repeat with remaining batter. Serve the pancakes stacked high with butter and maple syrup. Enjoy.
Notes
You can add other flavour to the pancakes such as blueberries or chocolate chips. Add the extra ingredients at the same time as you combine the wet and dry ingredients.